Positive Climate
At Paseo Pointe we RISE to success!
We are Responsible,  show Integrity, remain Safe, and stay Engaged.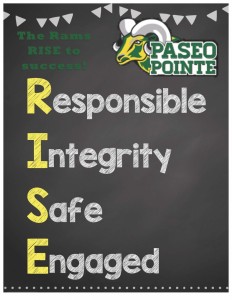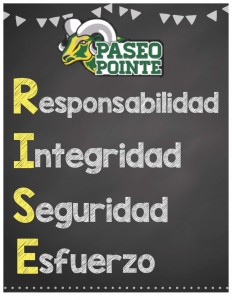 Paseo Pointe is dedicated to providing a safe and respectful school environment. The Paseo Pointe staff believes that all students can exhibit appropriate school behaviors. Parents, students, and staff members must work together to provide a positive learning environment and model R.I.S.E. behavior. To help guarantee student safety and a positive social and educational climate, it is important students' be responsible, show integrity, be safe, and engaged at all times.
Paseo Pointe uses the multi-tiered Positive Behavior Interventions & Supports (PBIS) framework to improve social, emotional and academic outcomes for all students.